Getting ghosted sucks! And a total radio silence can easily end any relationship in business too. In this webinar, you'll learn how to reach and connect customers better.
Mikko Hyppölä from Showell and Pyry Ollonqvist from Glaston will talk about how to reach and connect your customers better.
:
Learn:
How Glaston has changed the way it sells?

How to persuade people that can't be reached easily?

What could you do to end the total radio silence?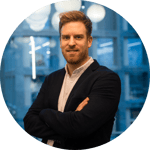 Contact one of our experts today!