Purchasing tablet devices for sales reps is a hot topic in many companies. Tablets are indeed great tools for sales work and there are many different brands and models in the market.
5 things you should consider when buying a tablet for your sellers
It pays to see past the price or the technical features of the device and look at the bigger picture. As the devices are in use for several years, you want to get the best out of the investment. Reviews and comparisons often put emphasis on the technical features of the devices. However, the easy and effortless use of a tablet is a combination of many factors.
1. Make sure you get updates
Make sure that new operating system updates are available for your tablet also in the years to come. Update availability prolongs the life cycle of the device and guarantees better information security. Issues with update availability are typical for Android devices. Updates are not necessarily available even for devices that have been in use for two years or less. Most Windows devices don't have this problem. For iPads update availability is almost guaranteed, as the latest version can be installed in devices as old as five years.
2. Don't focus on the price alone
High-quality tablets suitable for daily work have a fairly narrow price range. A high-quality iPad or an Android tablet can be purchased for 400–500 euros, whereas a good Windows touch screen laptop/tablet hybrid costs a bit more, with its price between 1,000 and 1,500 euros. A device that feels like a cheap plastic toy in the hand is a real mood killer. These cheap devices often have e.g. poor touch screen durability as well as a lower capacity in storage and performance.
Opting for the least expensive alternative could turn your investment into a total disaster.
3. Don't pay for unnecessary storage space
These days, an ever-increasing amount of data is stored in the cloud. A tablet itself can also store presentations and other materials for customer meetings so that they can be accessed even without an internet connection. Usually, videos and pictures take up a large amount of storage space. These too can be stored in a cloud service. Unless you plan to use the tablet for entertainment, the version with the least storage is usually a sufficient solution for business use.
4. Make sure the tablet has all necessary accessories available
It is usually a good idea to purchase a set of useful accessories for your tablet, such as an HDMI adapter for connecting to an external monitor, a protective case, and a keyboard. Make sure to ask the seller whether all the necessary accessories are available for the device. The best range of accessories by far is available for iPad devices. They also have the highest compatibility of accessories. Beware of devices that have no compatible adapters for connecting to an external monitor, for instance. With many Android devices the problem is that if a piece of accessory gets broken or lost, it might be difficult to find a replacement after few years.
iPad is leaps ahead of its competitors in terms of both quantity and quality
5. Get a device with a wide range of available business applications
Your tablet is useless if you are unable to download and use the applications your company needs. It is a good idea to also consider possible future needs you might have. When it comes to business applications that can be purchased and downloaded in application stores, iPads and Windows devices are ahead of Android in terms of both quantity and quality. The popular Microsoft Office software is available for all three platforms, but you get the best usability with iPads and Windows devices.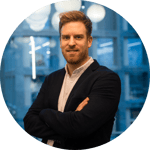 Contact one of our experts today!