Remote Selling
Find help, ideas, techniques, and tools for your remote selling. Empower your sales team to sell virtually.
Learn to Master Virtual Selling
"Virtual selling requires a significant changes to traditional way of selling in order to create a more engaging and connected buyer experience. At Showell we've been selling online for years. With the experience from hundreds of virtual meetings, here are our key take-aways for you to succeed at selling remotely."
Sami Suni, CEO & Founder, Showell
TOUCH
2. How to present in a virtual setting?
2. How to present in a virtual setting?
TOUCH
3. Why content sharing is key to success?
3. Why content sharing is key to success?
TOUCH
4. What tools to use to run great remote meetings?
4. What tools to use to run great remote meetings?
1. Prepare
How to prepare for a virtual meeting?
With Showell you can prepare your next meeting and create a personalised presentation in minutes and keep brand in control.
Here are 4 things that help you to be better prepared with Showell
1. Content Library
Put all your sales and marketing content into one place so that it's easy and efficient for sales people to find them when they start to prepare the next meeting.
2. Presentation Creator
Create a personalised presentation. You can easily do that with Showell's presentation creator by selecting pages, slides, images and videos – all without leaving Showell.
3. My Files
Upload your own custom content to Showell's My Files to combine, present and share them together with generic material. This helps you to create more personal experience, but still save time on preparation.
4. Slide templates
Add a custom cover page or an agenda page to your presentation with Showell's Slide Designer. Slide Designer comes with branded templates that make creating simple pages very fast. It literally takes just minutes to create a visually stunning and personalized cover page without messing up with your brand.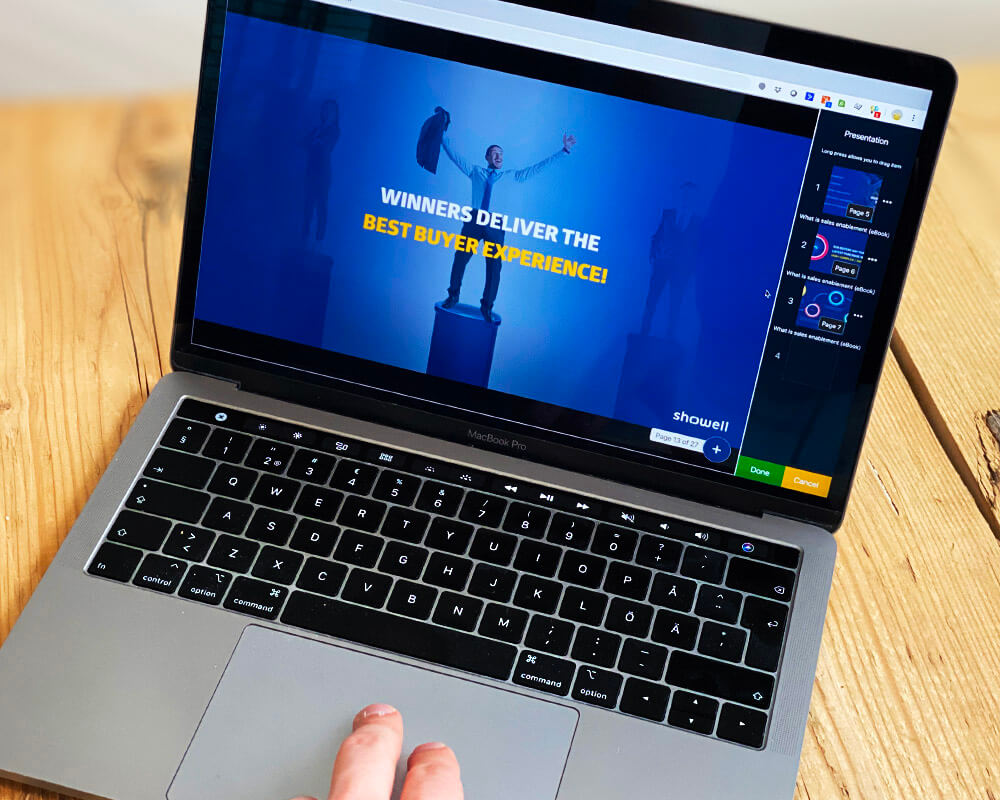 Create a presentation in Showell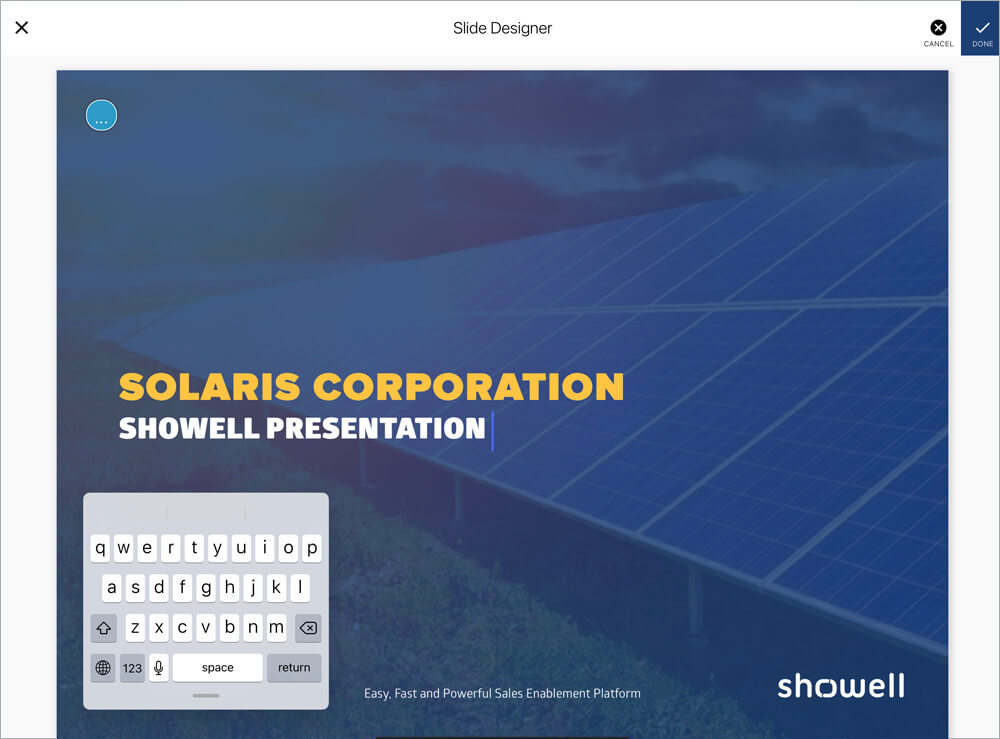 Add a custom cover page or agenda to your presentation
2. Present
How to present in a virtual meeting?
Remote meetings are often short so your presentation must be clear, visual and work smoothly. Keeping it as simple as possible is usually the best advice as there any many technical things that can go wrong. You also have to be able to quickly react to customer's needs and questions, and show relevant content.
Here's how to use Showell to easily show a smooth and reactive presentation in any remote meeting:
1. Connect
Start the meeting using your favourite web conference tool, e.g. Teams or Zoom.
2. Share screen
Find share your screen function, select and share your Showell App or Showell online browser window/tab.
3. Present
Show your presentation and other content using Showell. You don't have to jump between different tools, show your desktop or worry about activating PowerPoint's presentation mode.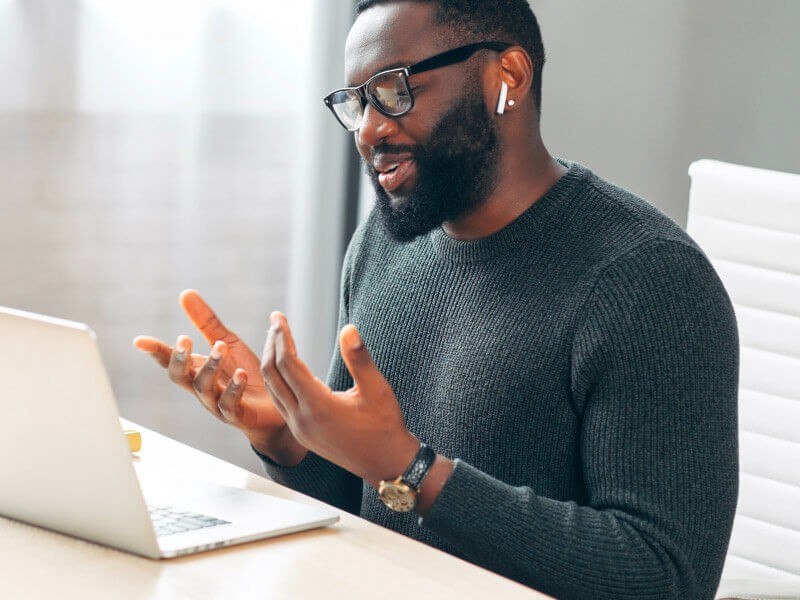 3. Share
Why sharing content is the key to success? And how to do it?
It's always a good idea to share content that speaks to all possible stakeholders. Sharing relevant content greatly helps to speed up the decision making.
With Showell, sharing your presentation along with other content is fast and easy:
1. Select
In Showell you can easily select the presentation you've created along with other content that you want to share with your prospects, customers or other parties.
2. Share link
Add a message, set an expiration date and share selected content via email, sms, LinkedIn, WhatsApp or using any other channel by simply copying the share link. Your customer receives a link to a branded share page: the Showell Share Center.
3. Track
If you have the share tracking feature enabled, you will be notified once the recipient opens the share link. You will also get valuable and detailed information what and how shared content is viewed.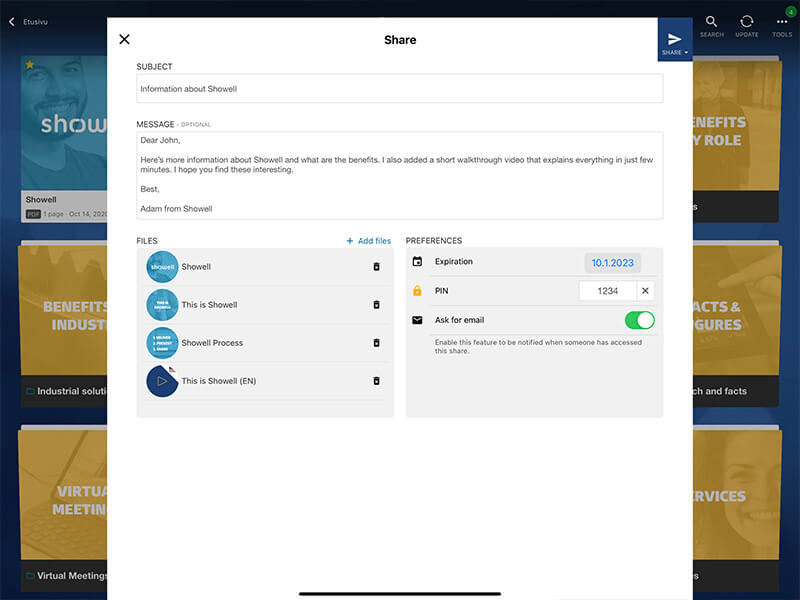 Select content for sharing, add a message, set expiration date and send link via email, sms, LinkedIn..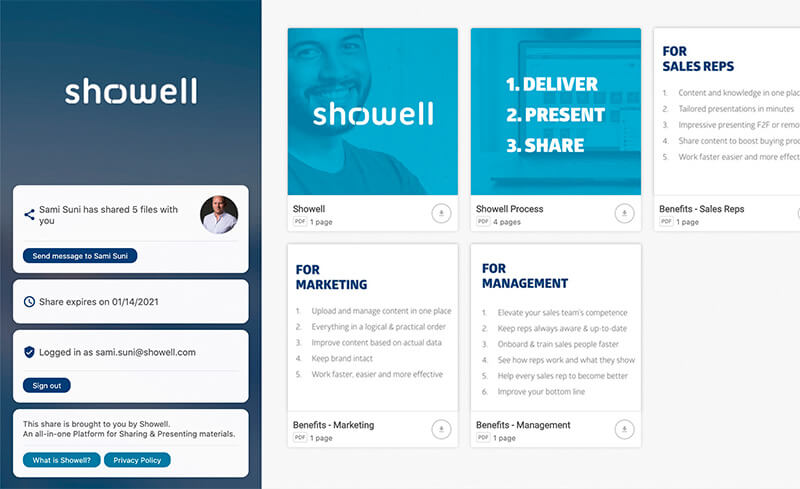 Share center is a branded web page where the recipient can browse, open and view shared content.
4. Web conference tools
What are the best web conference tools for sales meetings?
Showell is compatible with every web conference platform. However some of them are better than others. We have experience from hundreds of virtual sales meetings and by testing different systems, here are our TOP 3 virtual meeting platforms that work the best in sales. Read the review here.
How to get started?
Showell makes videoconferencing and online meetings a more engaging experience for everyone involved. The most up-to-date content, excellent graphics and your presentation skills will more than make up for the distance between you and your customers.
Are you ready to take your sales and marketing productivity, training and buyer experience to a whole new level?