What is Showpad? And What is Showell?
Showpad and Showell are both respected sales enablement platforms, helping businesses optimize their sales content management and sales readiness, as well as foster deeper buyer engagement. Despite Showpad's extensive range of features and benefits, Showell is highly praised for its user experience. Many of Showpad's customers switched to Showell, suggesting a diverse landscape of business platform preferences.

Learn More About Showell →

Why Our Customers Choose Showell Over Showpad?
Looking for the best in sales and marketing tools? While many recognize the value of Showpad, Showell is rapidly emerging as the go-to choice for businesses. Thanks to its seller-centric design, user-friendly admin tools, insightful buyer analytics, unparalleled customer service, and transparent pricing.

Read Our Customer Success Stories →

With Showell, You Receive an On-Brand Sales Enablement App
A fully branded sales enablement app doesn't only look good, but it makes your sellers stand out. It works offline and is compatible with any device, showcasing your company as professional, appealing, and reliable in the eyes of potential clients.

Learn More About Our Sales App →

More Cost-Effective Sales Enablement Solution Without Compromise
Showell offers a financially viable option with better return on investment, requiring less administrative work and providing

top-notch

features for your team at a lower price compared to Showpad.



View Our Transparent Pricing →
"We've got everything we need in Showell. We have had an increase in sales because we have better-prepared salesmen on the front line."
We Help Marketers, Sellers, and Leaders to Win More Revenue Together
Centralize sales content management and improve marketing impact by delivering on-brand content, messaging, and training materials.
Be always ready to close deals. Find, tailor, present, and share sales content that leads to more sales.
Empower your teams with essential resources and tools, ensuring alignment, fostering collaboration, and guaranteeing consistency and scalability.
"We can always focus on the content sales needs to do their daily work. I really appreciate the sales content statistics to see what's hot and what's not."
Like Showpad Features, But Better
Find, present & share content using a tablet, mobile phone, laptop, or web browser. Even offline.
Manage, organize, and distribute content with Showell's easy, but powerful content management.
PPT, Word, Excel, PDFs, images, videos, forms, 3D, augmented reality... anything you need.
Locate the right presentation, video, or data sheet with Showell's smart search and filter options.
Users, Groups & Permissions
Manage access to content and user/group permissions effortlessly for both internal and external teams.
Notify selected users or groups when content is updated or new content is added.
Get a Branded app that creates a professional and seamless experience for users and customers.
Personalized Presentations
Create, show, and share a tailored presentation in minutes by picking the right pages or slides
Share content via Showell's branded digital sales rooms. Track how content is viewed and opened.
Display 3D models and augmented reality content instantly, creating an immersive experience.
Empower sellers with smart tools like product configurators, price calculators, and data capture forms.
Showell provides all the features that successful sales teams need to engage and impress buyers.
Enterprise-Level Security
Your data is stored in an industry-leading ISO27001-certified, secure and lightning-fast cloud.
Showell is fully compliant with both GDPR (EU) and CCPA (California Privacy Act).
Showell provides multi-factor authentication and single-sign-on capability for access management.
You can accurately control who can access, present, share and download content.
Connect Showell with Your Other Sales and Marketing Tools
Showell fits into your existing marketing and sales tech stack and workflows.
Showell vs Showpad
What's Right for Me?
Great question! While both platforms can help you streamline your sales, here are four reasons why our customers appreciate us over Showpad.
Showell stands out as a high-value, cost-effective tool that's quick to implement and learn, and is effortlessly intuitive to use.
Our features are your key to enhanced performance and more closed deals. Plus, only pay for what you truly use.
Our customers receive top-notch support and are assigned a dedicated customer success manager to ensure their success.
Salespeople appreciate the sleek, branded sales enablement app that is compatible with all devices and can be used offline.
"I'd recommend Showell to anyone who has a sales team and wants to be able to send out materials in a professional format and wants to give autonomy to the salespeople in a controlled manner."
Want to Dig Deeper into What Showell Can Do for You?
Book a 30-Minute Demo and You'll Learn:
How Showell fits with your requirements and needs.
Platform features and functionality that are relevant to you.
Best practices and what to consider when using Showell.
Answers to any other questions you may have about the platform.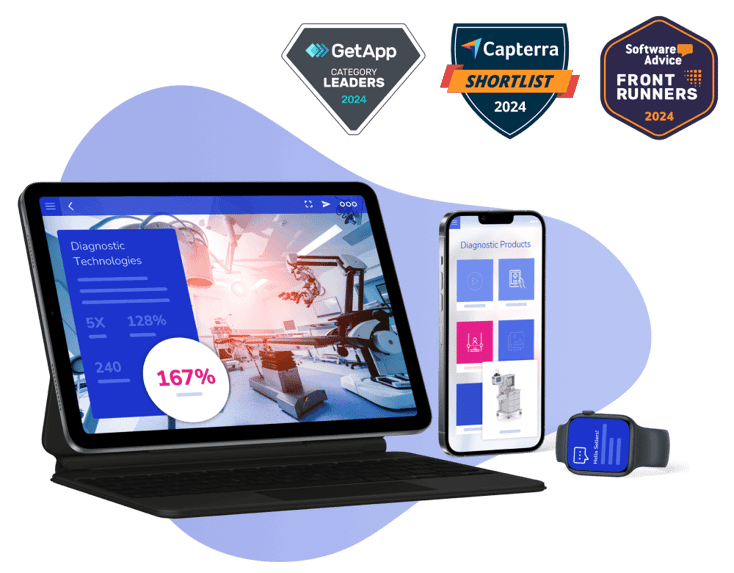 "Showell is a great platform to host and share all of our materials. It gives me the ability to communicate quickly and effectively with our global partners."
- Head of Global Product Management