The B2B sales landscape has undergone significant transformations in the past decade, particularly in light of the COVID-19 pandemic and increasing global demand for new sales models and tools. As the world continues to face challenges such as the war in Europe, rising inflation, and the possibility of a global recession, it is clear that the need for innovation in the B2B sales industry will remain a top priority. The winds of change show no signs of slowing down, and it is up to B2B sales professionals to adapt and stay ahead of the curve.
Fortunately, it's not all doom and gloom. Here are our predictions for 2023 on upcoming trends in B2B sales.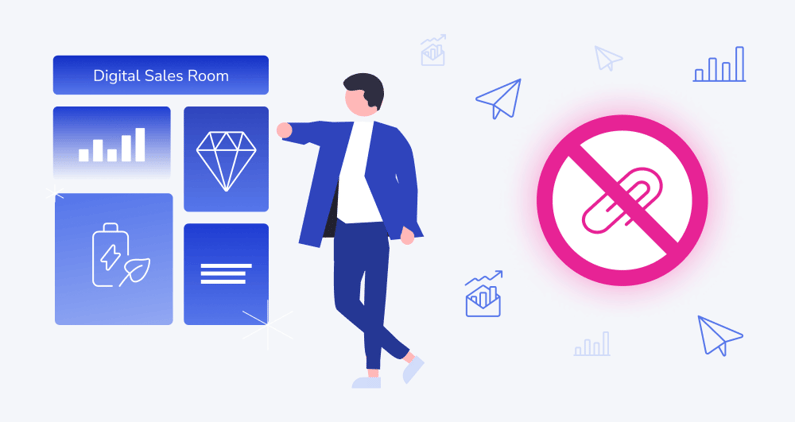 #1 Prediction
Sending sales materials as email attachments will be a thing of the past
Digital tools have made it easier to simplify time-consuming and trivial tasks. Communicating and sharing information used to be a tedious and manual process.
In 2023, we will say goodbye to email attachments. Digital Sales Room (DSR) offers a better solution for sharing sales materials with buyers. DSR is a branded micro-site where you can easily add and share files and documents of various formats using a link. Accessing the DSR is simple and anyone can use it.
Are you already using Digital Sales Room (DSR) to share materials with your buyers, or are you still using email attachments?
The benefits of Digital Sales Room
Modern sellers are switching to DSRs for sharing sales content because:
DSR allows you to track when buyers open your materials and what they view
You can see if there are any other decision-makers involved
Filling buyers' inboxes with heavy attachments is both inconvenient and risky due to file size limits and attachments easily getting lost in long messaging threads
DSR helps you avoid security threats related to receiving and opening email attachments
You can easily edit or remove obsolete collateral, ensuring that no outdated content is shared with buyers
It's time to modernize sales content sharing in 2023 and say goodbye to email attachments!

Learn more about Digital Sales Rooms here Digital Sales Room: Everything You Need To Know →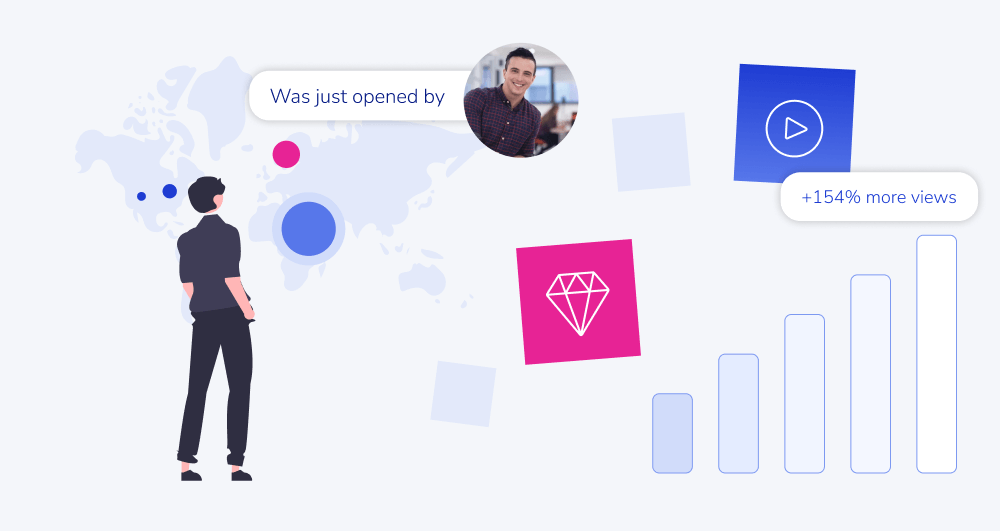 #2 Prediction
The top 10% of sales teams use analytics to influence buyer behavior
Einstein once said that insanity is doing the same thing over and over and expecting different results. This also applies to sales activities: without data insights, you can't expect buyers to engage with your materials, in the same way, every time. Buyers may have similar pain points and requirements, but their behavior can vary significantly. This is where analytics can play a big role.
"Insanity is doing the same thing over and over and expecting different results." -Albert Einstein
Information is power. 73% of B2B buyers say that a personalized sales pitch and engaging content experience are top priorities when selecting a vendor. Decision-makers engage with your sales content on different levels, so using sales content analytics can give you insight into how they open, consume, or share your content.
If you want to be in the top 10% of performers in sales next year, you need to understand how to use analytics. The better you understand how your buyers perceive your offering, the more likely you are to deliver resonant collateral and make the sale.
Here are some examples of sales content metrics you can measure:
Content: How much content is being consumed and shared
User: Who is consuming and sharing the content
Share: How the content is being shared
Learn more about The What, Who, Why and How of Sales Content Analytics →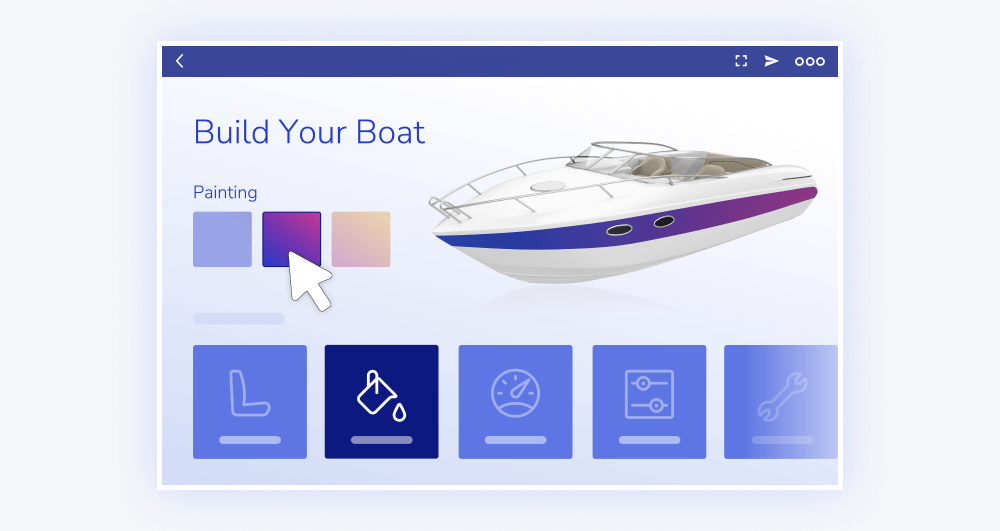 #3 Prediction
Presenting and sharing sales content will be enhanced with interactive sales collateral
In recent years, B2B buyers have become more sophisticated and may have complex requirements. This is why the quality and delivery of your sales information are crucial to driving purchase ease and high-quality sales.
You may already be using customer reference videos, case studies, or short video greetings to engage your buyers and keep their pain points in mind. Recently, we have seen an emergence of interactive sales collateral being used in Showell, such as animated product demos, interactive infographics, virtual tours, quizzes, and calculators. We predict that this trend will continue to rise in 2023. This is particularly relevant in industries still 'traditional' in nature. Product and service configurators have also become increasingly popular, as they help sellers convince buyers and facilitate decision-making during sales calls.
Our customers have also requested the ability to support 3D files and web apps in Digital Sales Room. 3D files are already supported, and we recently added support for web apps as well.
Conclusion
In conclusion, the B2B sales landscape is constantly evolving. In order to succeed in the continually changing sales landscape, sales professionals must be proactive in staying ahead of the curve. Our predictions for 2023 include the increasing use of Digital Sales Rooms instead of email attachments, the importance of using sales content analytics to influence buyer behavior, and the rise of interactive sales collateral. By embracing these trends, B2B sales professionals can improve their daily sales and increase their chances of success both now and in the coming years. Don't get left behind - stay ahead of the game and take advantage of these exciting opportunities today!