If your marketing campaigns aren't driving your revenue, you might have a problem with the content you're using.. or not being used. According to recent research, 65% of sales reps claim they don't have access to relevant content to send to customers.
The inability to find relevant content and leverage the right resources on time and according to your prospects' needs can result in missed opportunities. In such cases, a collaborative approach is needed.
This approach allows businesses to put marketing and their sales teams together to help develop a consistent, accurate, and up-to-date source of customer-centric content that they can use at every stage of the sales cycle. With that in mind, let's go over the main consequences of low content usage and how it impacts your team.
Sales teams won't be equipped to engage with buyers effectively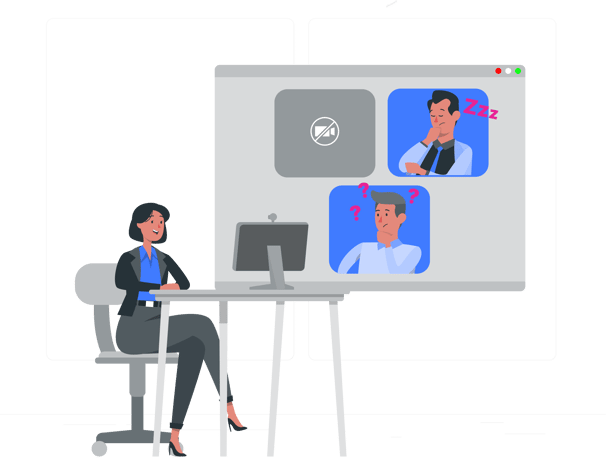 If your sales teams are not using marketing content to achieve their goals, the reason could be that the sales collateral they find is generic and outdated, and it doesn't offer any value or addresses your buyer's pain points. Another reason could simply be because they can't find it. Having to look for the right content adds on to the unnecessary admin time that your sales reps can use in sales activities instead.
Additionally, there are situations where content needs to be reviewed or updated regularly to keep up with the ever-changing market trends and needs. This can be quire time-consuming and require repetitive work. Your sales teams can get tangled in the process of creating their own content instead of working on the best ways to bring it closer to your prospects and close those deals.
Manage and distribute your content efficiently with Showell
Showell provides a straight-forward solution to your sales collateral by making content management easy and streamlined. Showell allows you to update your content effortlessly across all devices and notify your teams about new or updated content.
Instead of wasting time filtering out and organizing endless amounts of files, Showell can help you save time, effort, and resources by providing access to the relevant content for your marketing and sales needs.
Our priority is to allow your marketing and sales teams to easily access and use any content on demand and according to the demand of your buyers no matter what stage they are in the sales cycle.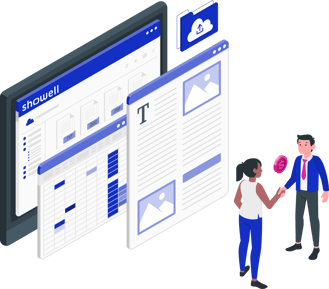 Aside from ensuring easy access, Showell provides valuable content analytics to allow your sales leaders to track what content their sales teams are using, for your marketing teams to better understand what type of content is more effective to certain buyers, and overall measure how your buyers engage and interact with your content.
With Showell, your marketing and sales teams get access to a wide range of fantastic benefits, such as:
Getting a unified solution for distributing, managing, and storing content
Multi-language support for delivering your content globally
Slide Designer, so you can mix-and-match content to fit your sales pitch
Comprehensive content format support (3D files, videos, presentations, etc,)
Access to content both online and offline, on any device
Easy content distribution - easily share dynamic content with a link to a branded microsite
Seamless customer experience with Digital Sales Room and shared content tracking


Bring your sales to the Digital Sales Room
Modern B2B buyers now demand a more convenient and personalized experience from their sellers. In order to provide the best mix of interactions, it's crucial that you give your buyers a seamless and memorable experience. That's where Showell's Digital Sales Room comes in.
Digital Sales Room or DSR is a branded custom microsite where you can engage and collaborate with your buyers.
In a DSR, you can share different types of content - 3D files, videos, or presentations, you name it. With Showell Analytics, you'll be able to understand how your buyers engage with your content and gain actionable insights to help your teams understand which content sparks interest and which does not.
How to get started with Showell Digital Sales Room in 5 easy steps: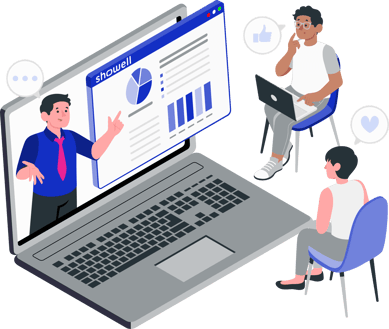 Get started and create a Showell account for free.

Upload your content in Showell

Create a presentation

Share your content by copying a link, or through

Advanced Share

where you can add a message, share expiration date, or pin code for maximum security.

S

ee who opened your share by going to Showell Analytics! Simply open My Files to see who's viewed or downloaded your content.
Ready to see Showell in action? Get started and book a demo below!