With all the digital tools available nowadays, you would think that it should be easier to share large PowerPoint presentations online, right?
The most common and widely used option is sharing it through email. However, sharing PowerPoint presentations by email is not the most effective solution. Most, if not all, of the email providers, have an attachment size limit. This leaves you with very limited and inconvenient options to share presentations, or even any large files, online. In this blog post, we will discuss how to share presentations online effectively.

PowerPoint presentations are widely used by many professionals to conveniently and effectively share information. And if you want to reach a wider audience, save time, and reduce costs associated with traditional in-person presentations, you share your presentation through online means, like email.
Read more about How To Share PowerPoint Presentations Online →
The Problem with Sharing Large Presentations Online
There are many online platforms available for sharing presentations. Some popular options include Google Slides, PowerPoint Online, and SlideShare. Another option to share files is to use a third-party file transfer website. The most commonly used ones are DropSend, WeTransfer, and Filemail.
However, there are some disadvantages to these options with the main ones being some of these services only offer limited shares for a time period and a file size limit in free versions of these services.
Learn more about How to Securely Share Files: Best Practices and Tips for Keeping Your Data Safe →
Easy Way to Share PowerPoint Presentations with Showell
Step 1: Upload your presentation to Showell
You can also easily drag and drop your files into Showell.
Step 2: Select the presentation you want to share
Step 3: Share Your Presentation
It's time to share it with your audience! After you have selected your presentation, simply click 'Share by email' to attach the share link to an email.
With Showell, you can share your presentation via a unique URL. This URL can then be pasted right away to any browser, email, social media channel, or messaging tool.
Advanced Share allows you to set sharing parameters, such as sharing expiration dates, pin codes, or whether presentations can be downloaded. This is a great way to keep your presentation private and ensure that only those who need to see it have access.
Tip: All files shared with Showell are opened in the Digital Sales Room which means no additional software, media players, or readers are needed to open any file type.
Bonus Step: Track Your Shared Presentation
Want to know if your receiver has opened your presentation? You can! If you selected advanced share and asked for the receiver's email, you will receive an email notifying you if the receiver opened your share, for how long, and if it was shared with someone else! Pretty handy!
Sharing Presentations Using Showell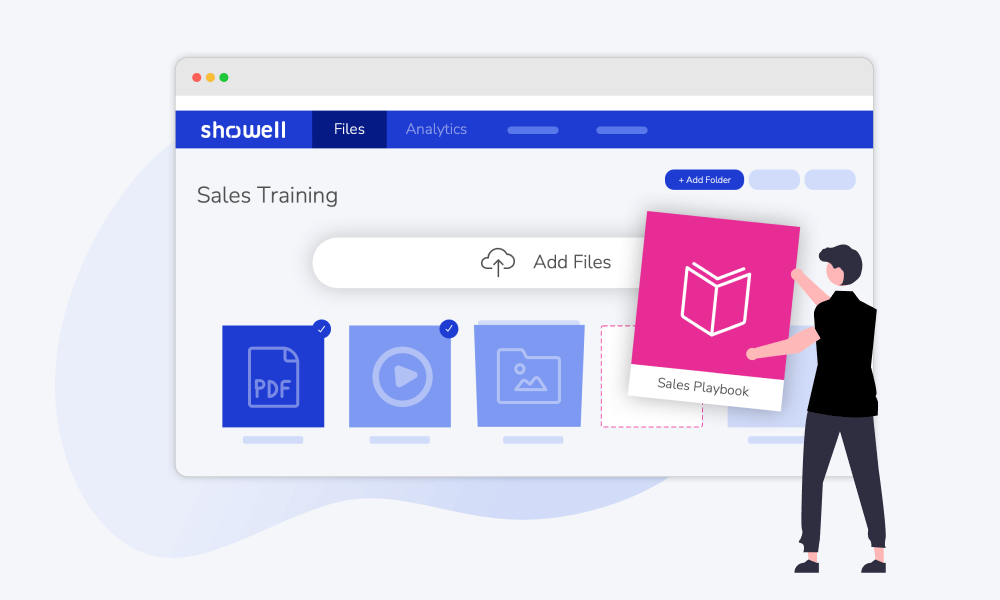 Sharing presentations using Showell is a convenient and effective way to reach a wider audience in a nick of time and at zero cost. With Showell, not only can you share presentations of any size, but files of any file type. Sharing files with Showell also comes with the Showell Analytics feature.
Showell Sales Content Analytics →
You can track your shares to see who opened your presentation, for how long, and whether they downloaded it or shared it with someone else. By choosing the right platform, creating and uploading your presentation, sharing it with your audience, and promoting it online, you can ensure that your presentation is seen by as many people as possible.