A sales presentation app is a salesperson's means of delivering impactful presentations. It enables them to be able to create and deliver a sales presentation that truly captivates your potential customers, leaving them eager to learn more and excited to buy. You can typically find this being used during trade shows, exhibits, and sales meetings.
With the constant changes in technology, it's important to keep track of the latest tools that can optimize your sales tech stack. It is becoming increasingly important to educate salespeople about the benefits and usage of these tools in order to be successful in their roles.
Without further ado, let's do a deep dive into the sales presentation app- what it is, what key features to look for, who can use it, and how they can be used to create engaging interactive presentations. We'll also go through the importance of training your salespeople in using sales presentation apps, what to consider before taking on this sales tool, and lastly, some best practices to keep in mind when implementing sales presentation apps into your sales processes.
What you'll find in this blog:
What is a Sales Presentation App?
A sales presentation app is a tool used to deliver sales materials to prospects during a sales meeting, whether virtual or face-to-face. It is a valuable tool to not only help you deliver more personalized and engaging presentations to your buyers but also to centralize and measure the performance of your sales materials.
Check out Showell's Sales Presentation Features →
Why Should Sales and Marketing Teams Consider Using a Sales Presentation App?
Modern B2B buyers are highly tech-savvy and have a demanding list of requirements before making any purchase. According to McKinsey, modern B2B buyers are seeking out 5 characteristics when making a purchase. The majority of these qualities are centered around providing an easy and seamless experience for the buyers. With a sales presentation app, you already meet the majority of these requirements, allowing you to focus on creating and delivering value to your customers.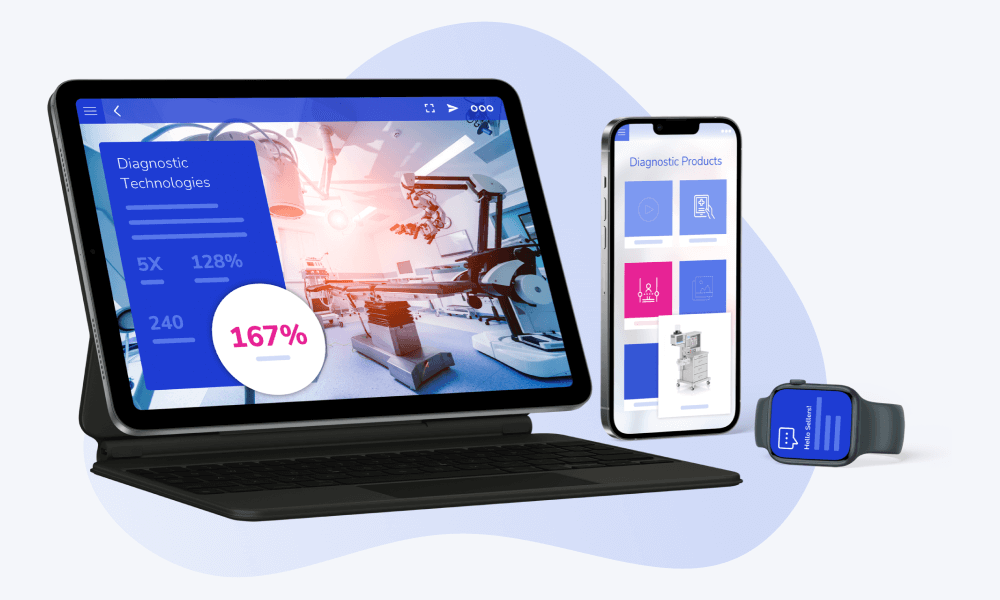 With traditional face-to-face meetings converging into the virtual setting, tools like a sales presentation platform can help seamlessly transition your buyer's experience in the digital realm. A sales presentation app is especially beneficial for salespeople. It can help ensure that all sales representatives are delivering the same message and presenting the same information in a consistent manner. This will help build trust with potential customers and increase the likelihood of closing a sale.
Salespeople need tools that can support the ever-changing and fast-paced nature of their role. They may be called to meet with buyers anytime so they need to be able to present anywhere, anytime. Sales presentation solutions nowadays are equipped with more than just your typical sales presentation features. This means accessibility, mobility, reliability, and analytics are key features that are factored into a sales presentation app.
This [sales presentation app] improves your sellers' productivity by focusing their efforts on revenue-generating sales activities and overall speeding up the sales cycle.
Key features of sales presentation apps
Features and functionalities available in sales presentation apps can vary widely depending on the specific tool in question. Typically, many apps provide a diverse array of sophisticated features that extend far beyond the basic presentation capabilities.
To illustrate, let's examine the key features you can find in Showell and typically, in other advanced sales presentation apps:
1. Content management and repository
Many sales presentation apps in the market offer content repository functionalities. This allows marketing and sales teams to have one centralized location for all sales materials. With this functionality, not only does this create a single source of truth for sales teams, but effective collaboration between teams is achieved when materials can be kept updated in one place.
Learn more about:
2. User communication and notifications
With sales materials being regularly updated, the sales presentation platform can simplify user notifications and streamline communication. Marketing teams can easily notify sales teams of any sales material changes and updates from the Showell app. This guarantees that salespeople are accessing the most accurate and current information wherever they may be.
3. User groups and permissions
If you are operating with a dealer network or simply working with cross-functional teams, admins can easily segment user groups and set permissions. This can be structured to support how your teams or dealer networks operate so respective teams can only access content that is relevant to them.
4. Easy sales content discovery
Finding the right content is a task that, unknowingly, takes up a good chunk of your salespeople's time. According to G2, sales reps spend approximately 440 hours every year finding the right sales materials. With Showell's advanced search features, your salespeople save a lot of time as they can easily find the content that they need.
5. Content tailoring and personalization
A common denominator with top-performing salespeople is that they no longer use a "one size fits all" approach.
From this report, Future of B2B Sales - The Big Reframe, custom-tailored and highly personalized content is proven to persuade buyers more. It shows strong expertise and commitment to delivering long-term value.
Sales presentation apps like Showelll make it easier for your salespeople to tailor their content. With the analytics in the app, salespeople gain first-hand insights into how target accounts consume and engage with content. This can be used to personalize value propositions based on your buyer's requirements.
When it comes to customization, in-app tools or integrations for commonly used presentation tools like Google and Microsoft Office are easily available for use from within the platform. This allows for ease of use and quick tool adoption.
Read more about: Learn 8 rules of tailoring your presentations →
6. Presentation features such as draw, zoom, kiosk mode, and annotate
Salespeople can provide their audience with an engaging presentation by using interactive features. Functionalities like drawing, zooming, and annotating can help highlight key points and deliver impact. During trade shows and conferences, kiosk mode can come in handy for a professional and branded look.
7. Multi-format support and advanced multimedia elements
To support a dynamic sales pitch, the sales presentation software is equipped to host a variety of file formats. In order for salespeople to fully capture the value of their product or solutions, multi-media elements such as videos, images, and other advanced media features like AR and 3D renderings are typically supported in these apps.
This is particularly valuable in industries with technical product requirements. This allows your salespeople to fully showcase their products, especially their technical features and functionalities, and to captivate the attention of their buyers.
8. Branded digital environment
Take advantage of the branded digital environment with your sales presentation app. Like Showell's Digital Sales Room, you can easily share sales content to create greater engagement with your buyers. With the added benefit of analytics, you can easily track how your prospects interact with your sales materials from within this dynamic environment. This creates a seamless experience for your salespeople and their buyers, all in one hub.
Discover Showell's Digital Sales Room →
9. Tracking and analytics
Tracking and analytics in a sales presentation platform are powerful features for your sellers. You empower them by being able to gain first-hand knowledge about buyers' interests when they open or engage with presentations. Salespeople can better adapt their offering and cater to buyers' needs at the given moment.
Here's All You Need to Know About Measuring Sales Content Performance →
10. Offline accessibility and device compatibility
Many sales presentation apps are built to be accessed even without an internet connection. Salespeople can then access have access to relevant sales materials whenever or wherever they may be. A big bonus for tech-savvy sales teams is that sales presentation software is compatible with any device so they are equipped to meet with a client from their laptops, tablets, or other mobile devices.
11. Ability to integrate with other sales and marketing systems
To avoid any disruptions in your processes, sales presentation systems can be easily integrated with your existing workflows and processes. They are designed to complement your existing tech stack to optimize your sales and marketing systems, and can readily be used will minimal onboarding.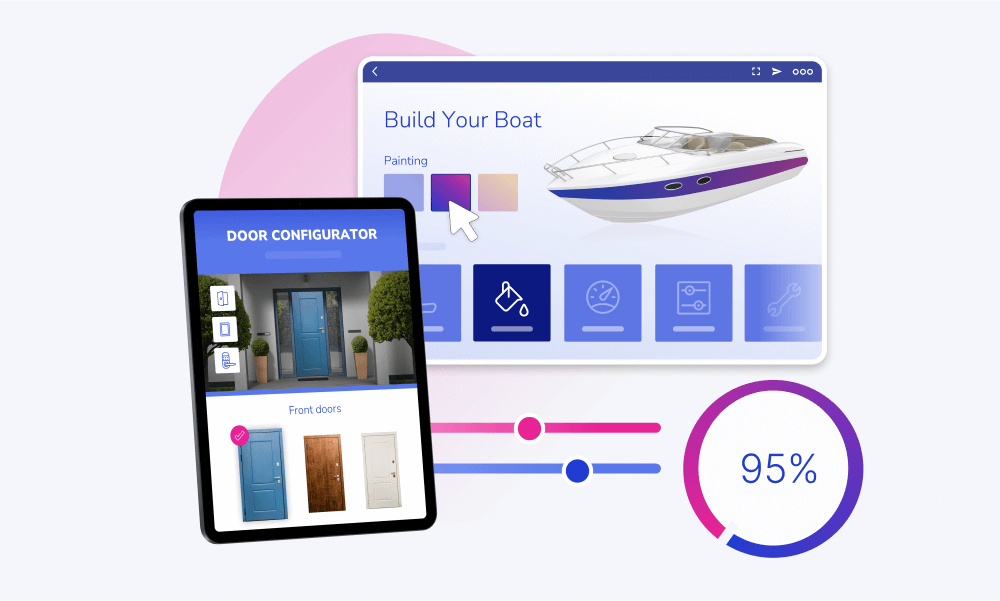 The Benefits of a Sales Presentation App for Different Roles in Your Organization
A sales presentation app is a versatile tool to support your revenue teams. Although mainly dedicated to customer-facing teams, like sales and marketing teams, the sales presentation platform can be used by various roles in the organization. Here are some challenges that each role may face and how a sales presentation app can solve those pain points:
Sales representatives
Sales representatives face a multitude of challenges when it comes to sales presentations and a sales presentation tool can help eliminate these barriers when it comes to selling. A sales presentation platform helps sellers easily find, tailor, and share materials - all within one platform. This improves your sellers' productivity by focusing their efforts on revenue-generating activities and overall speeding up the sales cycle.
Read more about Showell for Sellers →
Marketing leaders and sales leaders
It's important for sales representatives to deliver consistent messaging and present the company's products or services in a similar manner to maintain brand consistency. For marketing leaders, a sales presentation platform can help with delivering standardized sales presentations that align with the brand guidelines and messaging to ensure that value propositions remain consistent.
The sales presentation app also allows sales managers to track and measure the performance of their sales content and salespeople. Sales leaders need to establish metrics for measuring performance and tracking progress toward sales goals. With the analytics feature that comes with the sales presentation platform, sales leaders can easily see which salespeople need further activation or training. In addition, they can easily identify which content is used by their salespeople the most, use these insights to improve and develop sales materials and tactics.
Read more about Showell for Business Leaders →
It ensures brand consistency and that the salespeople always get up-to-date and accurate information.
Marketing and sales support
Marketing and sales support are typically the content owners within the organization. They are generally encumbered by the challenges of having to manage every content's version control if they don't have an efficient process or an effective tool.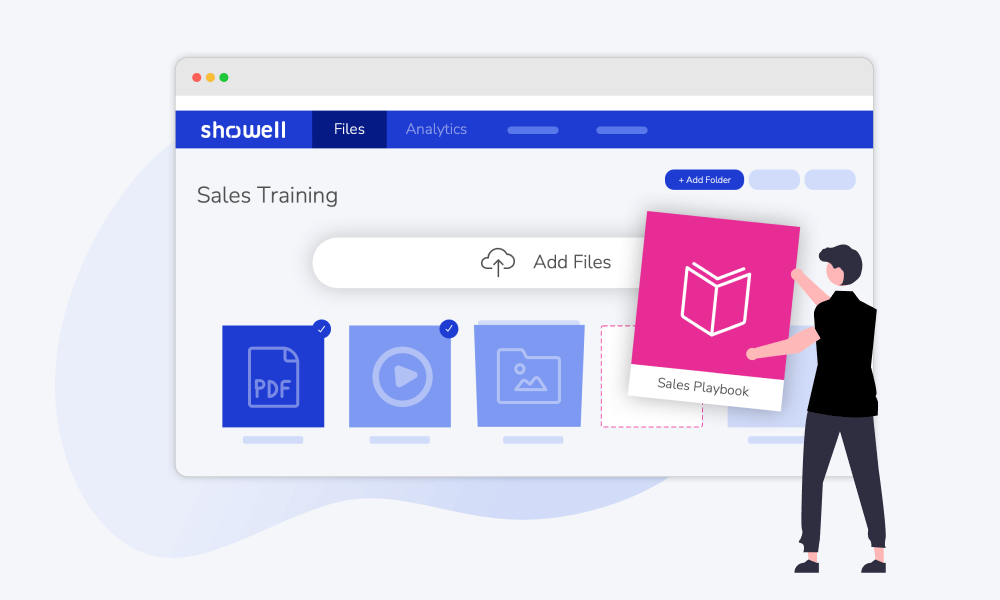 Keeping tabs on the most up-to-date versions can easily get out of hand. But with a sales presentation app, marketers and sales support can easily update content and notify salespeople of any changes. Not only does this provide accessibility for salespeople, but it ensures brand consistency and that salespeople always get up-to-date and accurate information.
Read more about Showell for Marketers →
Dealers and distributors
Dealers and distributors usually have limited access to information about the prospect, the competition, and the market. It's important for them to easily find up-to-date materials such as product information and brochures from one location. The sales presentation platform makes it easy for dealers and distributors to access up-to-date and relevant information wherever they may be, with any device available to them, even without an internet connection. See how Gaggenau is using Showell to stay on dealers' top of minds.
Customer success managers and key account managers
CSMs and KAM roles are required to focus on retaining existing customers. A sales presentation app can help them easily share tutorials, guides, and onboarding packs with customers. This requires a different approach to sales presentations, where they emphasize the value of the product or service over time.
The adaptability of the sales presentation platform provides CMS and KAMs with the ease to adjust their sales presentations for different approaches. They are tasked to maintain trust with the customers and tools like the sales presentation solution brings reliability and consistency at every touchpoint.
Customer support
Customer support can also benefit from a sales presentation solution. To answer queries and provide administrative or technical support, they can easily share guides, videos, tutorials, and other materials with customers and receive updates for any relevant promotions.
What to Consider Before Taking Sales Presentation App Into Use?
So now that you've identified that you might benefit from a sales presentation app, what's next? When implementing a sales presentation app, there are several things to consider to ensure successful adoption and usage among your teams.
1. Identify content owners
It's important to identify the content owners to ensure that the sales content is ready to be integrated into the tool. Just like with any content management platform, your content is only as robust as the tool.
It's key to first ensure that the content is generally up-to-date, align with your brand, and easy to modify. Before adopting a new sales presentation platform, it's also important to know your audience. What are their needs, pain points, and interests? This will help you create a refine your content that resonates with them and addresses their specific needs. Through time, you can use analytics to further develop and improve your content.
2. Compatibility with your existing workflows and systems
It's also good practice to ensure that the sales presentation app integrates seamlessly with your existing systems such as CRM and marketing automation platforms to streamline the sales process. This helps to easily integrate the new sales presentation solution into your sales process.
3. Security and compliance
Security and compliance must also be taken into account. Make sure that the sales presentation system meets all security and compliance requirements, including data privacy regulations such as GDPR and CCPA.
4. Consider the app's ease of use and ability to customize
Next, consider the user experience of the platform. Get your sales team's feedback and input as they are the main users of the tool. It should be easy to use, intuitive, and visually appealing to engage sales reps and enhance the sales process.
It's worth taking into account the level of customization that the sales presentation app offers. Sales reps will need to tailor presentations to specific customers, so the app should allow for easy customization and personalization, without sacrificing brand consistency.
Discover 2023: List Of Top Sales Presentation Templates You Need →
5. Presentation tracking and analytics
An important feature to keep in mind is the analytics and reporting capabilities of the sales presentation app. The app should have the capability to provide valuable insights into sales content performance, customer engagement, and sales team performance to help sales teams optimize their sales process.
Analytics is a valuable tool that allows you to see your sales team's performance so you can regularly assess your sales strategy and tactics. You can also easily track how prospects are engaging with your presentation to regularly improve your messaging and sales pitch.
6. Training and onboarding the app
Lastly, it's important to allocate some time to train your teams on how to effectively use a sales presentation platform. Provide comprehensive training and ongoing support to sales reps to ensure that they are fully equipped to use the sales presentation app effectively.
Read more about 7 Essential Skills Your Team Needs to Achieve Sales Enablement Goals →
6 Steps to Successfully Implement Sales Presentation App
Now that you've chosen to implement a sales presentation app for your team to use, it's important to factor in training your salespeople to use the tool. To ensure that they use the platform in the most effective way, here are 6 steps you can take to successfully implement your sales presentation system.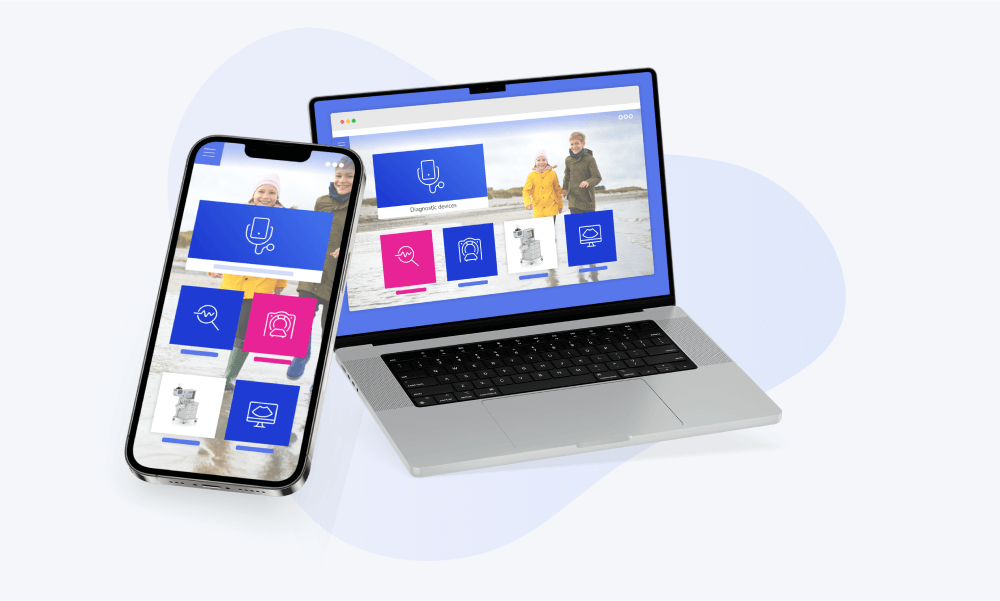 1. Identify product owners
As a first step, determine who will be the project owner. Maintaining and updating the platform's content will be the responsibility of this person. Marketing teams are typically content owners, so it makes sense for them to oversee the sales presentation app as well. It is important to pick someone who makes sense for your organization and fits its structure.
2. Give everyone a heads up
Clearly communicate with your teams about the new sales presentation tool especially your end-users, and your salespeople. Discuss how this new tool integrates with your current workflows and systems. It gives them a chance to gather information and possibly offer feedback to you.
3. Communicate the benefits of the sales presentation app
Give your end-users clear arguments of how and why a sales presentation app can optimize their sales process. Discuss how this supports your strategy and tactics. In order to achieve a clear goal, you must establish a clear path for your team and empower them to get there.
4. Provide an engaging launch along with comprehensive training
Build excitement with the app and encourage them to interact with the tool. Alongside the training, provide practical tips and tricks they can immediately use.
5. Collect feedback
Encourage an atmosphere where you can exchange feedback. This way, you can work together on effectively leveraging the tool and using it to the best of your advantage.
6. Celebrate success and give continuous support
Lastly, don't forget to celebrate achievements and success! This encourages your teams to continue using the tool. It's also important to provide ongoing support on their use of the app to ensure adoption and best practices are being followed. This can include reviewing presentation performance metrics and providing tips on how to improve.
In summary
A sales presentation app offers many benefits to sales teams, including increased efficiency and productivity. With a sales presentation app, your sales reps can easily create and deliver customized presentations to prospects and customers, saving them a lot of time and effort. On top of that, a sales presentation app brings forth a wealth of advantages to any teams that create and use sales presentations on a regular basis.
Adopting a sales presentation app can help your sales teams close more deals, increase revenue, and improve customer engagement and satisfaction.
From content management, branded digital environment, multi-format and advanced multimedia elements support, and offline accessibility features, it can bring efficiency to your sales processes and streamline tedious tasks that typically come with presentations. Adopting a sales presentation app can help your sales teams close more deals, increase revenue, and improve customer engagement and satisfaction.
Learn next: