Sales Enablement at a Glance
Here's the gist, sales enablement helps to prepare sales teams in their pitching efforts while also placing emphasis on the customer's experience. It's a digital tool that is more than the sum of its parts. When you dig beneath the layers, sales enablement adds value in many different ways but will always work to drive sales with modern efficiency.
Not only can sales enablement help make sense of a chaotic dealer network, but tools like Showell also create an effortless synergy internally between sales, marketing, and key stakeholders. It doesn't take long for results within sales and productivity to show. Simply because with easy content management, savvy presentation tools and the use of content and sales analytics, salespeople start walking the walk, and talking the talk, which translates to a better buyer's journey.

Showell's sales enablement platform also lends itself to improved training. Everybody knows onboarding new salespeople and getting existing talent sales-ready can be a lengthy endeavor.
Showell was built with these issues in mind and allows you to make an accessible eco-system of resources that improves the speed and effectiveness of training whilst also providing your sales team with the right tools to create business proposals from day one.
The most critical factor within sales enablement is how you can leverage the data you track. Showell offers expanded metrics that help reduce the blind spots in how you sell. Cast light on the dark spots within your sales funnel and identify issues you may not have even considered. For example, test to see if your marketing content is a hit or miss by how prospects interact with it. These data points can help to shape your content strategy to create a killer pitch deck time after time.
Data tracking also allows sales leaders to evaluate their sales process and self-correct to achieve better results. If ever there was a tool to streamline your sales and marketing teams in unison, it lies within the powers of sales enablement.
Want to learn more about how you can optimize your sales process? Check out Fixing Sales Performance Issues: A Guide to Sales Process Optimization →
The Importance of Sales Enablement
The proof is in the pudding; when you're not leveraging sales enablement, you're not moving forward. Some say that's just as bad as moving backwards. Digital transformation is integral to any business these days; it's a way to keep up with consumer habits and deliver an experience that is on par with evolving expectations. If your brand is perceived as old-fashioned, what does that say about your products? This could mean you immediately lose a large segment of potential buyers.
It's also important to note that your competitors will use any edge they can get, so it's a matter of being one step ahead. Particularly as B2B sales become more challenging, your sales pitches need to cut through the noise and provide clarity to consumers. This is where data gives you a fighting chance, allowing you to unearth insights ahead of industry trends and build more compelling strategies and business proposals.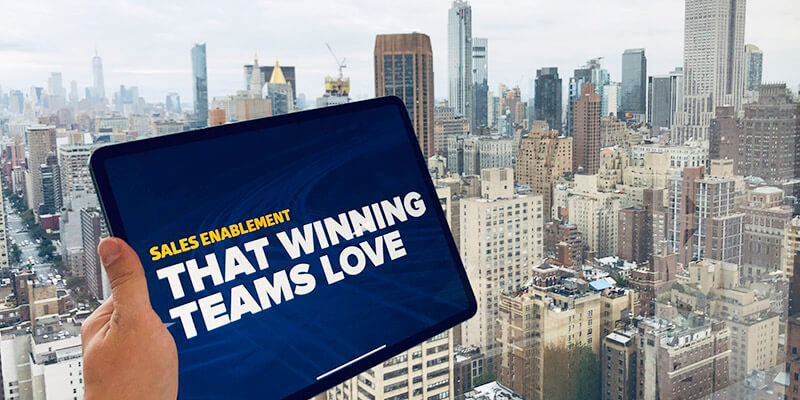 Showell gives you the advantage with sales enablement and then some! We've seen it – the issue of dealing with silos, inconsistent onboarding, and content not being used by your team. We made a solution with these pain points in mind. Showell is an award-winning tool made to centralize all sales collateral for ease of onboarding, present with ease and assurance that you will have nothing but updated content, data to track engagement and activity to understand your prospects better, and so much more.
Learn next:
Are you already considering different sales enablement solutions? Read more about how Showell is an alternative to Showpad, Seismic, Highspot, or Mediafly.