When it comes to making sales, you need to embrace all the efficiencies you can find. Why? Because what company thrives when their data is scattered, teams are misaligned, and work is done in siloes. There are many benefits to integrating your sales enablement tools and CRM system like ensuring deals close effectively and quickly.
With these tools you gain the ability to gather more accurate data and form more thorough strategies that bolster your long-term goals. As you likely already know, your CRM tool is a vital piece of the puzzle when it comes to growing your business. By having a sales enablement platform working in parallel with your CRM, you create greater synergies and can help identify new avenues for revenue. Want to future proof your pitches? Here's why you should connect your sales enablement and CRM tools together.
Why You Should Implement Your Sales Enablement with CRM
Whether you're working with remote teams or happen to be in the same office, the needs for a digitally connected working environment will affect how you sell. Showell bridges the significant gaps often found within sales, marketing, and company operations. This includes having both sales enablement tools and a CRM platform in one, creating a cohesive environment built upon selling better.
Our approach allows data gathering to ​​be more holistic, considering all areas of selling that can be refined. Showell enables you to have a better overview of your sales timeline, from when you start pitching to when you close deals. Delivering deeper insights, you never even thought of, like what page of a presentation a prospect is most interested in or how often they reviewed the materials you've shared with them.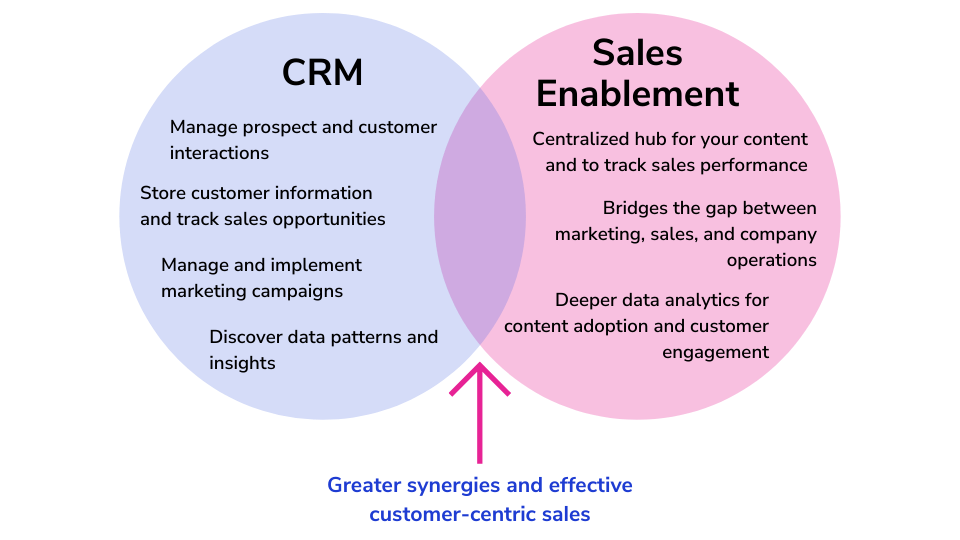 Upload existing content or create collaterals from scratch, equipping your salespeople with easily accessible content in one drive. Easily integrate existing content through SharePoint or Google drive with Showell and build collateral with more actionable outcomes. No more searching through email attachments to find a presentation slide. Showell allows you to mix and match all available content as needed within the platform. This also allows your dealer networks to stay on brand when representing you, as accessibility and brand consistency are two major pain points when selling.
Access statistics on what content is used internally, make decisions based on data, test new strategies, and reinforce existing ones. Best of all, you can place greater emphasis on CRM initiatives - allowing your teams to build stronger relationships the more they sell, leveraging the information they gather on target markets to present to them better using Showell's digital salesroom.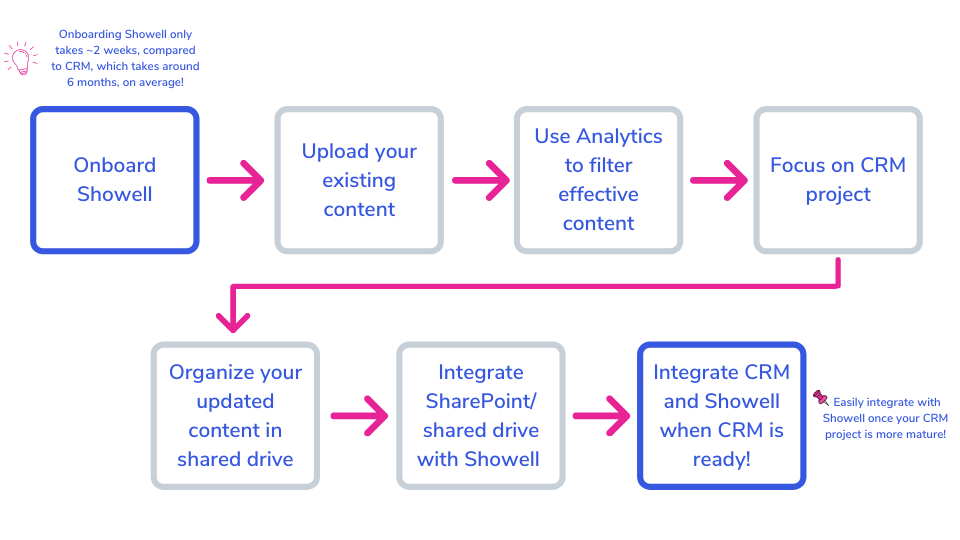 If you're wondering, is my content ready for Showell? It doesn't matter what stage it's at, even if you don't have content! That's because Showell can help you build your sales collaterals upwards at any stage of content creation, harnessing data and user insights to help perfect it over time. You don't have to wait months to get your content where it needs to be. Adopting Showell only takes 2 weeks to onboard, compared to other CRM tools, which can take up to 6 months on average.
Are you considering between sales enablement platforms?
Read more about how Showell is an alternative to Showpad, Seismic, Highspot, or Mediafly.
Ready to Sell Better with Smarter Tools?
We've seen it – the issue of dealing with silos, inconsistent onboarding, and content not being used by your team. Showell adds structure that enables you to sell and market yourself to your best ability.
We made a solution with these pain points in mind. Showell is an award-winning tool made to centralize all sales collateral for ease of onboarding, present with ease and assurance that you will have nothing but updated content, data to track engagement and activity to understand your prospects better, and so much more. To find out more, you can request a demo.